Double Translations Video Feature This Week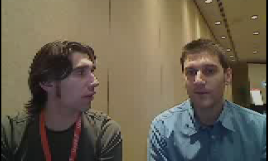 Lots of translations news on the air this week!
Yesterday I had the pleasure to chat with the legendary Danilo Šegan, of Launchpad Translations and GNOME internationalization fame.
Danilo told us all about the progress on upstream integration work in Launchpad and explained more in detail the part which has just been freshly implemented for Ubuntu: better translation imports from upstream projects.
Do check it out here and stay tuned for the next Ubuntu Translations Videocast in a couple of weeks.
But that's not all! This week  comes packed with translations content, as I got interviewed by Jono and had the opportunity to talk a bit about our amazing translation community.
http://www.youtube.com/watch?v=a7gIDkq6oT8
It's been a great week here in Dallas, but all good things come to an end. Next week back in business from home and we'll leave the space to the Launchpad folk to discuss their master plan during the Launchpad Thunderdome. Rock on.