Translating software descriptions with Nightmonkey
I've been meaning to talk about this cool project for some days.
Enter Nightmonkey:
[caption id="attachment_303" align="alignnone" width="480"]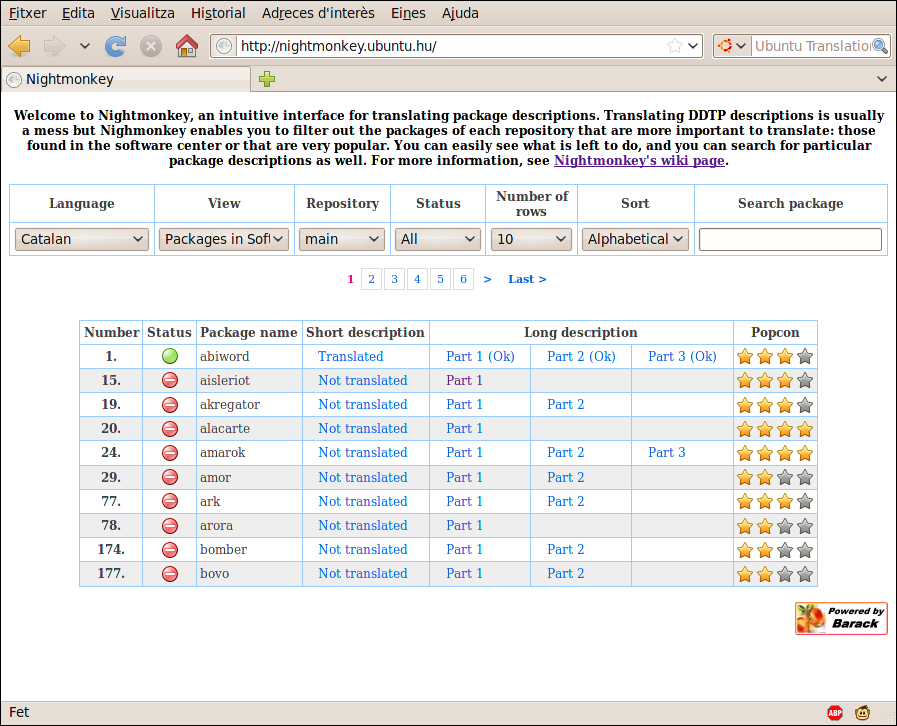 Nightmonkey 2.0[/caption]
What's this?
Nightmonkey is a project created and driven by the Ubuntu Hungarian team to allow an easier translation of the descriptions of packages, with István Nyitrai as the main developer and rockstar.

These are the short and long texts used to describe what a particular software package does. They are shown in different places in the system, most notably on Software Center when you are looking at an application's info page.
Why is this so cool?
For multiple reasons. Let me just mention a few:
It's a community project around translations, providing an alternative view to translatable packages in Launchpad. This makes them more discoverable and eases the translation process.
It was designed with upstream collaboration in mind. István and Michael Vogt made a great effort to ensure these translations can be sent back to Debian.
It's very easy to use, and it allows filtering translations according to popularity, so that translators can focus their work on the descriptions of most important applications.
It is a great tool for teams to set translation goals and use it for Translation Jams, for example.
Can I contribute to it?
Well of course!, Nightmonkey is Open Source, and you can: https://wiki.ubuntu.com/Nightmonkey

Looking forward to seeing more of such awesome community projects developed around Ubuntu Translations!