A new era for the Ubuntu community team, or business as usual
After the recent news of Jono Bacon stepping down as the Ubuntu Community Manager to seek new challenges at XPRIZE, a new era in Ubuntu begins.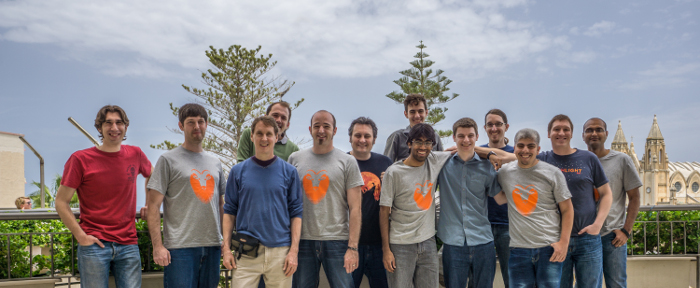 Jono's leadership, passion and drive to continually push the boundaries have been contagious over the years, and have been the catalyst for growing the unique community of individuals that defines Ubuntu today.
He is now joining the ranks of non-Canonical Ubuntu members, and while this will change the angle of participation, I'm certain that it won't change his energy and dedication one bit. But most importantly, it's a testament to his work that his former team will continue to thrive and take up the torch in pushing those boundaries.
For us, it will be business as usual. As such, we will be executing our roadmaps, continuing to grow a strong and open community, being innovative in how we do it, and coordinating the logistics around our plans. Not much will be different in that regard, but obviously some organizational bits will change.
As part of the transition, the Ubuntu Community Team at Canonical in full, that is, Michael Hall, Daniel Holbach, Alan Pope, Nicholas Skaggs and myself, will now be hosting the weekly Ubuntu Q&A, starting today at 18:00 UTC on Ubuntu On Air (click here for the time at your location).
The Ubuntu Community Team Q&A
Openness, both in being a transparent and welcoming community, is one of the core values of Ubuntu, and we believe the channels should be always open for a healthy information flow and to help contributors get involved.
As such, the Ubuntu Community Team Q&A will continue to provide a weekly, 1-hour-long session open for participation to anyone who wants to ask their questions about Ubuntu. In fact, as in former editions, you can ask the Community Team just anything about Free Software, Technology, or whatever you come up with. As before, the only questions we won't answer are those related to technical support, where you'll be much better served using Ask Ubuntu, the Ubuntu forums or IRC.
Join the Ubuntu Community Team Q&A and ask your questions >
The Ubuntu Online Summit is coming soon!
Also, following the thread of events and participation, the new Ubuntu Online Summit (UOS) is coming up very soon, and it's an excellent opportunity to learn about getting involved in Ubuntu, organizing or presenting the plans of the different Ubuntu teams for the next months.
UOS will be held on June 10th – 12th and it will be a combination of the former Ubuntu Developer Summit and the more user-facing events we've been organizing in the past. This opens the door to a wider audience that can follow a richer mix of developer and user or contributor content.
If you want to learn about the details, check out Michael's UOS post on how it's going to work. If you want to contribute and make a difference in Ubuntu, do register a session too!
Looking forward to seeing you soon!