Getting ready for more jamming awesome
The engines are already warming up for the Ubuntu Global Jam on the 26th to 28th of March weekend.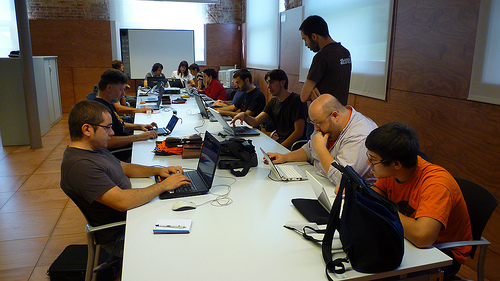 As our vibrant community grows, we're also expanding the types of jams, to make sure everyone can pick one suited to their tastes. Here is our variety of flavours this time:
Bugs - find, triage, squeeze and help fixing those annoying little bugs.
Testing - with your testing Lucid is going to be a top notch release.
Upgrade - contribute making the upgrading to Lucid from Hardy or Karmic a smooth experience for everyone.
Documentation - spread the knowledge on Ubuntu and on participating in the Community, help documenting it.
Translations - join the awesome Ubuntu translations community and make the Lynx speak your language.
Packaging - follow the path of the legendary Ubuntu developers and learn how to package software.
Other - be creative! suggest your own type of jam! marketing, artwork, advocacy... you name it.
One very important point is to note that these are only suggestions, and not every LoCo will run every type of Jam. The main thing is to spend some good time hanging out with your friends while making Ubuntu rock harder.

You'll find all you need to know about the jam at

Jorge Castro will be running a series of training sessions to help you getting started if you've never run a jam before.

We'd like to see you there, see you and your people's beautiful pictures and hear your stories, so remember to add your event and get ready for the jam!

Image: http://www.flickr.com/photos/alexm/3978175164/ / CC BY-SA 2.0